Shopping Cart
Your Cart is Empty
Thank you for your business!
You should be receiving an order confirmation from Paypal shortly.
Exit Shopping Cart
The Milk Crystal Dairy and the Flaig Family

Our farm has 350 acres of managed grassland and is home to our dairy herd, a few beef and poultry, along with an abundance of wild life. The cows are grazed on sun-kissed pastures from April until November. Grazing is a valuable grassland management tool and has been an important part of the prairie chicken management program. Careful grazing can control unwanted woody vegetation and stimulte desirable grassland plants. The outcome has been creation of a unique grassland habitat where these precious few can continue to thrive and return to their traditional booming grounds each spring. Ninety-three of the 350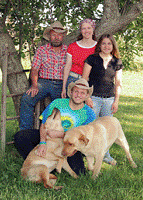 acres of our land are in a wetland reserve program, a perpetual easement.
We own and operate our family farm with the help of our two children, Holden and Emily. The farm has been in our family for over 50 years. Our family has a commitment to farming "green" and in harmony with nature. A wide variety of wildlife inhabits these grasslands, including hawks and owls. This is a landscape alive with grassland songbirds, sandhill cranes, upland sandpipers, as well as red fox, coyotes and other mammals. We have been able to experience the prairie chicken's early morning mating dance and would like to share it with you. Come see why the scientific name "Tympanchus cupido pinnatus" translates as "Drummer of Love."
/