Shopping Cart
Your Cart is Empty
There was an error with PayPal
Click here to try again
Thank you for your business!
You should be receiving an order confirmation from Paypal shortly.
Exit Shopping Cart
| | |
| --- | --- |
| Posted by prairiechickenviewing on March 21, 2011 at 8:17 PM | comments (1353) |
Spring is really here, just a few patches of snow left along the fence lines.  All day while in the barn and the fields, I hearing the low boom, boom, boom of the prairie chickens. Also saw our first meadowlark of the year yesterday, what a sight!  Carl & Carol
| | |
| --- | --- |
| Posted by prairiechickenviewing on April 25, 2010 at 8:25 PM | comments (283) |
Earth Day at Carl Flaig's farm was an amazing experience with the wonderful display of 14 prairie chickens. We had "surround sound" with 2 males directly behind our blind, one female and her "suitors" strutting and booming directly in front of us. Although we used binoculars for the varied details of these lovely birds, they were unnecessary as we were only about 20 yards away in the very comfortable blind. Arriving at 3:00 pm we had a bit of a wait, but were told that afternoon viewing is a bit more unpredictable, so cranes, wood ducks, meadowlarks and even a marsh hawk kept us entertained. In today's world, it is exciting to know that some folks like Carl Flaig and his family are willing to set aside private land to protect these avian wonders. I was also thrilled to hear that school groups come to the blinds at 5:00 am- conservation education is critical to preservation of this dwindling species. Well worth the trip from Southernmost Illinois!
| | |
| --- | --- |
| Posted by prairiechickenviewing on April 17, 2010 at 10:13 AM | comments (299) |
A recent visitor, John Van Den Brandt, posted this comment on a bird list serve: 
"My wife and I visited the Carl Flaig farm just outside of Stevens Point on Sunday morning to view Prairie Chickens. If you've never been to this location, I highly recommend it. The blinds are first rate and ideally situated for both viewing and photography. Carl is very friendly and he operates his farm in a manner that is supportive of grassland birds. It's always fun to hear the rising volume of prairie chickens booming in the total darkness. Then, as the light slowly comes up, you first detect shadowy motion, then vague shapes, then the outline of prairie chickens. When the sun finally crested the horizon, we were surrounded by 25 prairie chickens (including one briefly on the roof of the blind). Great viewing and high quality photo ops. The viewing season continues for several weeks".
-He is a professional photographer and has fabulous wild life photos at   www.wildwindimages.com
| | |
| --- | --- |
| Posted by prairiechickenviewing on March 18, 2010 at 10:47 AM | comments (436) |
Yes, I hear the meadowlarks as I am getting the fields ready for planting and feeding the cows.  What a sound!  They often perch on a post near the blinds so if you come out to see the prairie chickens - you will enjoy other birds as well.  Carl Flaig   
| | |
| --- | --- |
| Posted by prairiechickenviewing on March 18, 2010 at 8:45 AM | comments (8213) |
Hi all,
> My little sister beat me to the punch, but I agree with everything she > said. I can't say enough about viewing the prarrie chickens. A pretty > amazing experience. Well worth the long drive up and the sacrifice of my > sister's radiator, which died on our trip. And the kicker to the whole > experience was the hopitality of the Flaig Family.
> If anyone would like to see more pictures, I whittled my 300+ pics down to > about 30
>
> http://www.flickr.com/photos/floresdavid/sets/72157623622680870/
>
> Good birding all,
> David Flores
> South Milwaukee, WI
| | |
| --- | --- |
| Posted by prairiechickenviewing on March 18, 2010 at 8:38 AM | comments (594) |
> My brother Dave and I had the most wonderful experience today viewing the > booming and dancing of the Greater Prairie chicken. We estimate that at > the peak of the show, we were surrounded by about 50 chickens, only two of > which were hens. Nothing can compare to the sights and sounds of this > experience and although we were excited about it, were quite unprepared at > the wonder of it all. If you haven't yet experienced this, I recommend you > put it on your bucket list.
> We've heard great things about viewing the chickens at Buena Vista, but we > had the good fortune to see them at the farm of Carl Flaig and family > (Junction City, WI). They definately gave us the royal treatment and were > so hospitable. If anyone is interested in seeing them at the Flaig Family > Farm, they've invited us to pass along their information. They request a > donation of $25 for the experience. http://www.prairiechickenviewing.com; > (715) 570-0782; email [email protected]
>
> Also, here is a link to the photos I took this morning. > http://www.flickr.com/photos/rwiskowski/4433560311/ I think my brother > will probably post his photos a little later on his Flickr site.
>
> Rita Flores Wiskowski
> South Milwaukee, WI
> Viewing chickens in Junction City
| | |
| --- | --- |
| Posted by prairiechickenviewing on March 9, 2010 at 8:57 PM | comments (385) |
Spring has officially arrive -- male prairie chickens have been on the booming ground for a few days already.  An average of 13-18 males were seen in each afternoon during the past week.  They usually arrive 3-4 pm and stay for an hour or two.  I'm sure they are also there in the morning, I have been busy in the barn so haven't counted them then.  When you are here viewing the birds, check out our new calves - we've got a dozen already.  Our snow will be completely gone in just a few days.  We are starting to take reservations, so if you have specific dates that you would like to come by please call as soon as possible.  (715) 570-0782   Carl Flaig        
| | |
| --- | --- |
| Posted by prairiechickenviewing on April 27, 2009 at 8:26 PM | comments (231) |
Thanks again for a great time, we really enjoyed your hospitality. The view of the chickens was spectacular, great blind and very comfortable. Sorry we could not stay for hot dogs it was 11:00 PM when we got home. I have posted on your bog and feel free to use us as a reference or.. I hope you are getting the rain that Waukesha is getting, a good soaker. Have a great weekend and enjoy the rest of the Spring,
Patty & Bill Downham
| | |
| --- | --- |
| Posted by prairiechickenviewing on April 21, 2009 at 10:53 AM | comments (428) |
On Tuesday, April 14 and Wednesday, April 15, Vesper Community Academy 3rd
and 4th graders visited the grounds as they have been working on projects
centered around ecosystems, habitats, predator/prey, cause and effect of
animal/habitat disturbances.  Pictured here two of the brave teachers and
4th grade students after an exciting two hours of being one with the
chickens.  Mr. Whitmore says, "You have to be out here to get the
true 'flavor' of the experience.  It was AWESOME."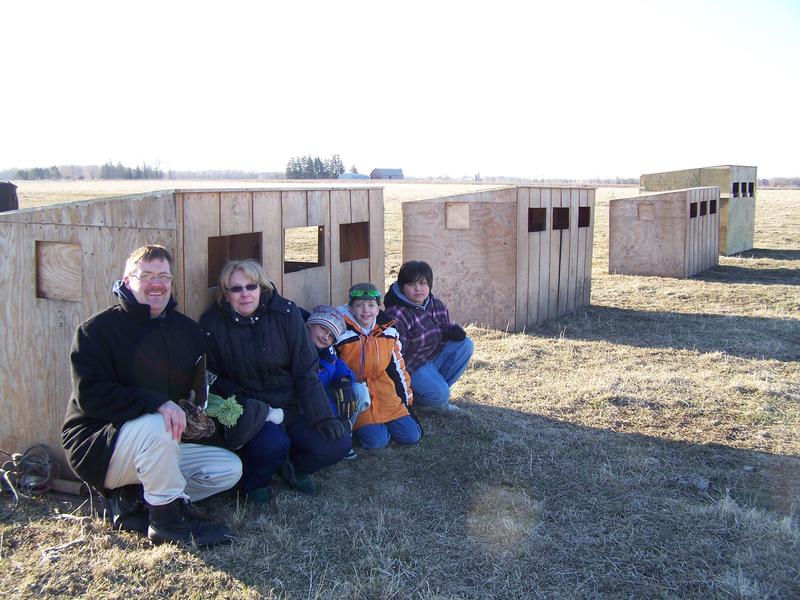 | | |
| --- | --- |
| Posted by prairiechickenviewing on April 6, 2009 at 2:47 PM | comments (363) |
What a wonderful morning, guests were in the blinds at about 5 am, listening to the sounds of meadowlarks and snipes in addition to the booming of the prairie chickens.  Twenty males and three females provided tremendous activity.  We shared a cup of coffee after the birds left.  The guests enjoyed the show so much they plan to return again, yet this year.   Carl Flaig
/